Only one of two proposed hyperloop systems involving Pittsburgh remains in active development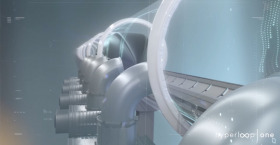 The Mid-Ohio Regional Planning Commission has stopped actively developing one of two potential routes linking Pittsburgh, Columbus, and Chicago until the hyperloop technology receives federal government approval. For six years prior, the commission based in Columbus, Ohio, had been working with Virgin Hyperloop One which last month indicated it would shift its emphasis from moving passengers and cargo to now mostly just cargo. "We're not advancing any of our studies at this time," said Thea Ewing, director of transportation for the Mid-Ohio group. "We went as far as we could go. Nothing else has been scheduled. We understand that their technology isn't ready [for government certification] yet."
Check out the Hyperloop explained in this video.
The other proposal, a route from Pittsburgh to Chicago by way of Cleveland, is still under development by Hyperloop Transportation Technologies Inc., a company working with the Northeast Ohio Areawide Coordinating Agency, another regional planning organization.
First proposed by Tesla CEO Elon Musk and initially developed by Hyperloop One engineers, hyperloop technology involves pods propelled at 500mph or more through low-pressure tubes using magnetic force. A 2020 feasability study declared the system could deliver passengers from Pittsburgh to Columbus in about 20 minutes at a cost of $33, and to Chicago in about 56 minutes at a cost of $93. If advanced, the system would cost tens of billions to build under a public-private partnership and wouldn't be complete until about 2050.
Read more about the history of the hyperloop projects and more here thanks to reporting by Ed Blazina at the Pittsburgh Post-Gazette.