Lunch with PennDOT Deputy Secretary Jim Ritzman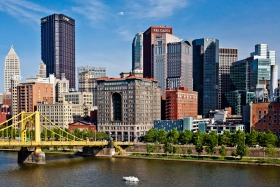 Registration is now open!
Join the Southwestern Pennsylvania TMAs - ACTA, OTMA, and PDP - for a discussion with PennDOT Deputy Secretary, Jim Ritzman, about Transportation Funding Issues Facing Pennsylvania on Tuesday, September 20, 2011 from 11:30am - 1pm. Register Now!
This event will be held at the Rivers Club - Ballroom, 301 Grant Street, One Oxford Centre - Suite 411, Pittsburgh, PA 15219.
Lunch will be served.
This event is sponsored by Airport Corridor Transportation Association, the Pittsburgh Downtown Partnership, and the Oakland Transportation Management Association. Co-Sponsors for this event are Allegheny Conference on Community Development and Sustainable Pittsburgh.